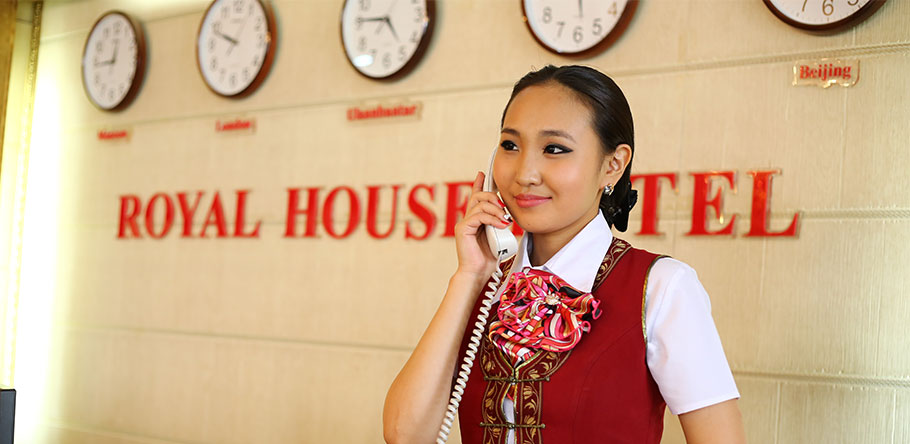 Royal House hotel is  strategically located in the heart of Bayanzurkh district and is only minutes away from the biggest shopping  centers.  Public transport such as taxis & buses are also easily available from the hotel's main entrance to bring guests to all parts of Ulaanbaatar. 
Guests staying in the hotel's newly refurbished 34 spacious deluxe and standard rooms will enjoy services complying with world`s three star standards. Each of the rooms and suites offer a choice of King Queen Double & Single beds. 
For guests' convenience & entertainment, we have added a wireless broadband internet access facility and also additional satellite and cable TV channels linked to all guest rooms. In addition, air-conditioning, mini bar, IDD telephone and bathroom telephone,iron and ironing board and working place.
Royal Irish pub brings an authentic slice of Irish culture to Ulaanbaatar with the best Mongolian live music plus big screen satellite sports and widest choice of local and international beers and cocktails available.On daily basis we will whip you up a menu of traditional Irish pub grub freshly baked bread, mouthwatering premium steaks, delicacies and irresistible desserts,and also traditional Mongolian. Irish pub accommodates up to 150 guests. 
Room service is also available 24 hours. Breakfast buffet in the restaurant is very well accepted by local & foreign guests.State of art facilities, expert catering, and a professional event staffsmake 'AltanTitem' (Level 2)restaurant an ideal venue for delectable regional and international cuisines. 
VIP karaoke KTV (level B1) and the room in the lobby are wonderful places to be entertained, unwind and to enjoy a drink or two with friends, colleagues and business associates.
Various seminar packages are available and the conference & seminar rooms are well equipped to cater both large and small groups, be it meetings/ seminars or just fun-going parties.
You are on business or vacation we wish you a very pleasant stay with our Traditional Royal Service that we offer.